OUR VERDICT
INTERFACE

AUDIENCE

PRICES

SAFETY

THE GOOD:
Detailed women's profiles
THE BAD:
Dated site design
Limited search options
Occasional security concerns
SUMMARY
You can tell that this website is pretty old from the design, and we did not find the rest of the features to be particularly outstanding. The variety of women is also far from perfect.
The first thing you learn after visiting the cherryblossoms.com website is that this dating service is the oldest one in the business. It was launched in 1974 as a catalogue of Asian brides, and even though the service currently operates exclusively online, it is still often referred to as the Cherry Blossoms mail order bride website.
While some members praise Cherry Blossoms for its variety of members and accessible dating features, there are many cherryblossoms.com reviews who point out the more controversial side of the service. According to those reviews, the Cherry Blossoms dating is not particularly safe for the members and your chance of being scammed there is pretty high. We decided to take our own, deeper look at the service, and here is our cherryblossoms.com review.
Audience
The website boasts having over 50,000 female members, and most of them can be divided into two categories. The first one is the Asian women who currently live in Asian countries such as the Philippines, Thailand, Vietnam, and a few others. These women are the reason why you hear so much about Cherry Blossoms mail order brides, as they are very much interested in marrying foreign men and moving abroad from their home countries.
The other category is women of Asian descent they were either born in other countries to immigrant parents or moved abroad a few years ago. These women are usually more financially stable and are looking for equal relationships.
There are several ways to discover the women of CherryBlossoms. Every time you open the website, you will see a gallery of random women. You can also view members who are currently online or use the filters on top of the page to tune the selection according to your tastes.
If you want to be more specific about the women you meet on Cherry Blossoms, you can use the search function. At CherryBlossoms, the search is pretty detailed and allows you to specify both standard parameters like location, age, and physical traits, and more exotic features like religion, astrological sign, and nationality.
You will see the results of your search in a collage, where you will find each woman's profile photo, name, age, location, marital status, number of children, and when she was online for the last time.
Open up any woman's complete profile to see her additional photos, learn more about her personality and dating goals, and reach out to her if you like what you see. The communication options at the Cherry Blossoms dating website include smiling, requesting a video, and sending an email.
Prices
Creating an account and browsing the profiles at CherryBlossoms are available for free, but you won't get very far with a free membership if you want to actively talk to women. You will need a paid membership, which costs $29.95 per month. With a paid membership, you will be able to send and read unlimited emails, take part in public chats, and have your profile placed higher in the search results.
You can pay for your membership with the most popular payment methods. There is also a possibility to lower the cost of the membership by buying more months at once. The most money-saving option is a 12-month membership, but it requires some serious commitment from you.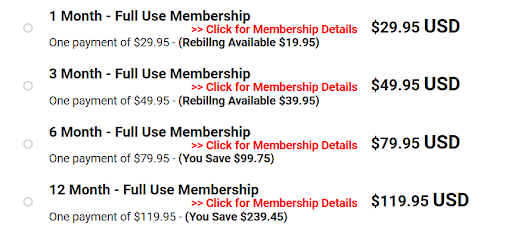 Safety
Cherry Blossoms is certainly aware of the past controversies involving various scam activities. That is why now there is an option to check the text in each woman's profile and her profile photo with Google to see if they are genuine or taken from other sources. You can also block and report suspicious profiles. However, we did not find those safety features to be sufficient enough to ensure a secure dating experience for every member.
FAQ
What is Сherry Blossoms?
CherryBlossoms is an Asian dating website that has been around for over four decades. It was designed to help men from around the world find potential Asian and Filipino matches for romance and marriage.
Who can you find there?
When it comes to the female members of Cherry Blossoms, most of them are of Asian descent. However, not all Cherry Blossoms members live in Asian countries — there are many female users of the website who moved abroad but are still interested in the world of Asian dating.
How much does Сherry Blossoms cost?
CherryBlossoms offers you a chance to buy a paid membership, which costs $29.95 for one month. You can bring the cost of the membership down by opting for more months at once — for example, if you buy a 1-year membership, you will pay just $9.99 for one month.
Is Сherry Blossoms a scam?
We cannot outright call Cherry Blossoms a scam, but it is certainly not the most trustworthy dating website we have reviewed. The owners are rather secretive about their stats and other features, and some of the profiles struck us as fake.
Who owns Сherry Blossoms?
Cherry Blossoms was originally founded in 1974 as a picture catalogue of Asian brides, but the service is no longer run by its original owner. Today, CherryBlossoms is owned by Mike Krosky. The company is headquartered in Hawaii, USA and provides exclusively web dating services.
Does Сherry Blossoms have a mobile app?
Cherry Blossoms does not have a mobile app either for Android or iOS devices, which should not be surprising considering the site's dated design. Plus, the mobile version of the website is rather limited and does not give you the full Cherry Blossoms experience when you are browsing from your smartphone.
How do I delete my Сherry Blossoms account?
If you no longer want to be a member of Cherry Blossoms, you can delete your account permanently. To do it, go to your account settings and select the option to delete your account. The membership costs at CherryBlossoms are non-refundable.