OUR VERDICT
INTERFACE

AUDIENCE

PRICES

SAFETY

THE GOOD:
Detailed women's profiles
THE BAD:
Only Android mobile app available
Nearly useless for non-paying members
Focus only on Thailand women
SUMMARY
ThaiCupid is one of the largest Asian dating sites worldwide. It was launched in 2002 and since then has won over nearly two million singles. The service has multilingual options and is available in most European countries.
The first step towards finding your Thai beauty is going to thaicupid.com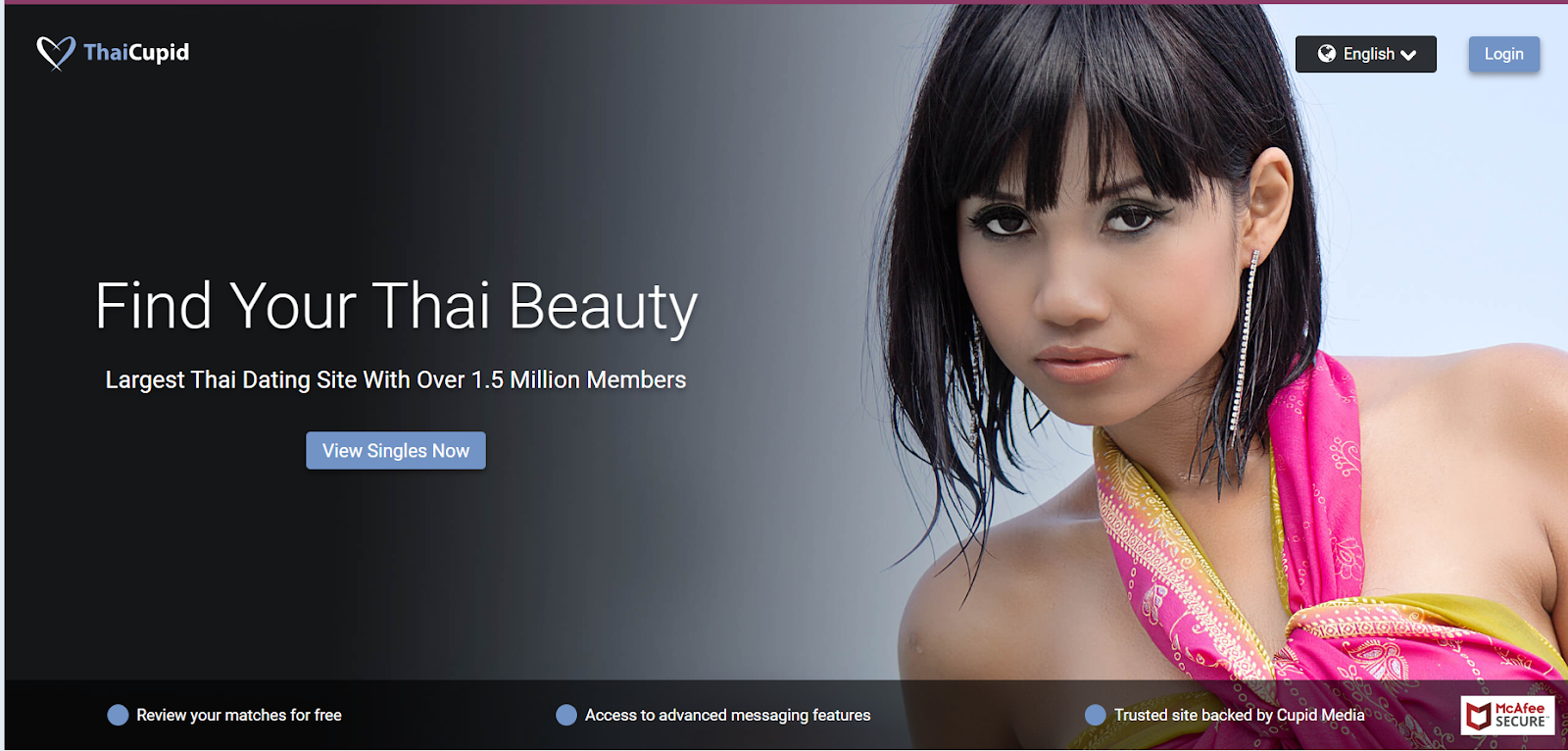 After that, you need to register by entering the basic data, such as your name coupled with surname, age, region, email address and password. Alternatively, you can do all the listed items via Facebook. Then, go and check the Terms of Use. Once this action is done, you are redirected to the main page where you're instantly exposed to pictures of Asian girls. 
Once on the main page, you can scroll down a great diversity of Asian singles. In the lower right corner, you can either hit the "like" button or text her straight away. Also, you can check if you're added to someone's favourite list as well as add a photo to attract more attention.
Using the panel just above the photos of Thai ladies, you can discover the parameters available. This is another advantage of the service since you can determine what you want your potential wife to be like in diverse aspects and thus, narrow the search. You can choose the basic details such as age, region, gender. A bit below, you can also specify her body constitution and parameters. After that, the service provides you with many options of hobbies, interests, habits as well as details of cultural background. Ultimately, you can even opt for a specific bust, waist and hips measurements.
In the left top corner, thaicupid offers you a bunch of options. You can watch your current messages and regulate the activities in your relationships. This way, you can be aware of not only your actions but also of girls interested in you. The option of specifying the search is available here as well. Also, you can go to your profile where you can add details about yourself so that you can find your perfect Thai cupid match faster. If you are in need of any information, the "Other pages" in this menu can help. Here you can get acquainted and assess Terms of Use, contacts, cookie policy, guidelines. 
If you can't wait to start interacting with Thai ladies, then you can watch the users online through the option "popular searches". Also, you are provided with the rest of the latest information such as new photos, members and the best matches for you. This option also allows you to better understand what Thai girls are popular among men for. 
There is a disadvantage though – sometimes pop-up ads hinder you from fully enjoying the navigation of the site as well as the interaction with Thai girls.
For those who want to use the thaicupid service to the fullest, gold and platinum subscriptions are provided. You can opt for either and acquire unprecedented advantages. There are many on the website, and you can enjoy this information arranged in a comprehensive table on the official website of thaicupid.com. 
The main ones of them are:
the ads-free version of the website

the doubled profile space

your priority over non-platinum members

the unlimited range of members you can communicate with
Audience
If you search up for thaicupid reviews, you'll understand that the thaicupid service, despite its popularity even beyond the target audience region, is predominantly popular in the Asian region. One of the possible reasons for that is the company's ownership of plenty of other identical services, which you can also access through the main menu in the top left corner of the interface. 
Among them are dating sites for international, African, Indonesian women. Given the audience of the service is due to reach 2 million worldwide, it is clear that it is in demand with many people in the most diverse countries.   
Pricing
The main ways to increase your chances for a more successful interaction are to buy either gold or platinum subscription. There are three options: you can pay for 1, 3 or 12 months. As the number of months increases, the bill for each month diminishes. So if you're serious about seeking your love after reading this thaicupid review for a long time, then it is a much better option to buy the 12-month subscription. Below all the prices are indicated as of February 18, 2020:
The platinum prescription
12 months — $159.99 in total($13.33 monthly) 
3 months — $79.98 in total ($26.66 monthly)
 1 month — one-off sum of $39.99
The gold subscription
12 months — $139.99 in total($11.67 monthly) 
3 months — $69.98 in total ($23.33 monthly)
1 month — one-off sum of $34.99  
The service offers the most reliable and secure payment systems such as Visa, Mastercard, American Express. Also, for visitors of Eastern Europe Yandex money and WebMoney are available.
However, unfortunately, if any problems occur, then you're unable to get in touch with the live chat as one simply does not exist. So you need to obtain the connection through the email, toll numbers, etc.
Safety
As stated by the thaicupid service itself, it ensures a high level of security by sustaining the "Fraud Prevention" team as well as compiling new information to the "Safety Tips" page. The service gives an extensive Privacy policy where you can reveal the standing of the company, its contact details, measures taken to prevent scams and frauds. Also, the company gives the link to its sister site sharing important data on protecting private information while being on thaicupid website.
FAQ
What is ThaiCupid platform?
Thaicupid platform is a dating service that has been around for over 15 years and provides people all across the world with the opportunity to meet their love on the Internet.
How much ThaiCupid cost?
There are two subscriptions on the service. Each has its own pricing:
The platinum prescription
12 months — $159.99 in total($13.33 monthly) 
3 months — $79.98 in total ($26.66 monthly)
 1 month — one-off sum of $39.99
The gold subscription
12 months — $139.99 in total($11.67 monthly) 
3 months — $69.98 in total ($23.33 monthly)
1 month — one-off sum of $34.99  
Is ThaiCupid a scam?
No, it is a reliable service which transparently lays out all the contact information, license as well as Privacy Policy
Who owns ThaiCupid?
As officially stated by the company, it is owned and  operated by Cupid Media Pty Ltd ACN 104 844 564
Does ThaiCupid have an app?
Yes, it has. You can download it on the App Store and Google Play. 
How do I delete my account?
You can delete your account either by writing an email to the company asking for deleting your account or opting for it in the settings of your profile explaining the reasons for that.